The Australian online retailer Kogan.com has introduced the world's first "tax" on Microsoft's Internet Explorer 7 (IE7) browser.
Customers who use IE7 will have to pay an extra surcharge on online purchases made through the firm's site.
Chief executive Ruslan Kogan told the BBC he wanted to recoup the time and costs involved in "rendering the website into a antique browser".
The charge is set to 6.8% – 0.1% for every month since the IE7 launch.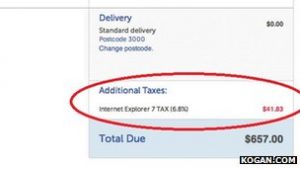 Too much effort
According to Mr Kogan the idea was born when the company started working on a site relaunch.
Mr Kogan said that even though only 3% of his customers used the old version of the browser, his IT team had become pre-occupied with making adaptations to make pages display properly on IE 7.
"I was constantly on the line to my web team. The amount of work and effort involved in making our website look normal on IE7 equalled the combined time of designing for Chrome, Safari and Firefox."
Mr Kogan said it was unlikely that anyone would actually pay the charges. His goal is to encourage users to download a more up-to-date version of Internet Explorer or a different browser.
Mr Kogan told the BBC his customers were very happy and he had received a lot of praise for his efforts.
"Love your IE7 tax. I hope it becomes effective" was one of the messages posted to Kogan on Twitter.
IE7 was launched in 2006, but since then Microsoft has released two major updates to the software.
The launch of Internet Explorer 10 is due in the autumn.